Top 5 Dos and Don'ts for Your Best Holiday Marketing Yet
by Lindsey Weinig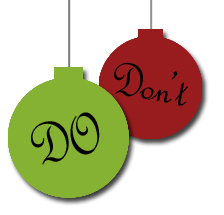 We all know holiday marketing is highly valuable, but it can be a daunting task. Online shoppers in the U.S. spent nearly $37.2 billion during the 2011 holiday season, up 15% from 2010 according to comScore. To get you in the holiday (marketing) spirit, and spark your creative drive for this year's strategy, we've compiled a list of 5 quick dos and don'ts.
Do: Set up a schedule for your emails and your goals – remember holiday gift purchasing starts as early as late October!
Don't: Forget about post-holiday sales; once the busy holiday season dies down, many of your contacts will be in prime position for purchase.
Do: Make sure your goals aren't all sales focused. You want to be able to easily evaluate the success of your campaign so consider open and click rates as possible indicators.
Don't: Ignore promotions that you appreciate and consider applying that method to your business.
Do: Send Holiday e-cards early to let your customers know you appreciate them (and remind them of your company before the holiday season). Check out the seasonal templates from Bright Peak >
Don't: Let your promotion drag on, limited time offers will help motivate your contacts to purchase now.
Do: Bundle complimentary offerings to increase your overall sales and help your customers shop more efficiently.
Don't: Miss out on the big 3 shopping holidays – Black Friday November 23, Cyber Monday November 26, and Small Business Saturday November 24.
Do: Be sure to utilize social buzz to peak interest in your seasonal offering, but also drive your contacts to sign up for your newsletter in as many places as possible to help increase engagement.
Don't: Let your follow up plan fall to the wayside; boost your success by utilizing the Call List after your email campaign to prioritize your sales team.
Now's a great time to get ahead of the holiday marketing game. Use this list to start planning NOW. Whatever you do, don't wait until the last 12 days of Christmas for your holiday marketing!